Except when it simply threatens to fall and it doesn't. Today was such an odd day, but absolutely beautiful. The cloud cover and breeze were such a fun change of pace.
Things have been so hectic, recently. Between our last minute summer "daycations," Vegas, my sister coming to visit, and getting ready for school to start, I feel like we have been whirling dervishes. Of course, I wouldn't want it any other way, but it can get a bit chaotic. Heck, just getting the four kids out of the house might be considered a feat of strength. :)
So, without further delay, here is the next quilt I have to share. I titled this quilt "Bloom Where You are Planted." This quilt is the result of a block exchange with my Cabin Fever Friendship Group.
When we were on our last retreat to Idyllwild, Marian suggested that we each complete a raw-edge appliqué flower block to exchange with our members. The fun thing about raw-edge is that the edges will "rag" up when the quilt is washed. (Marian completed her blocks for everyone before we left that weekend!) Since I have never attempted raw-edge appliqué, my interest was piqued.
I decided to use poppies as my flowers in a little galvanized steel water can.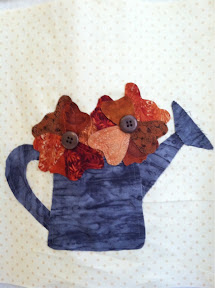 (Sorry that the picture is such crap.)
When I received the other blocks, I realized that I was going to have a pretty big void. I thought that I might do an embroidery block with a quote, but struggled to find a quote that was apropos.
Instead, I chose to create another block (oversized) to fill the space.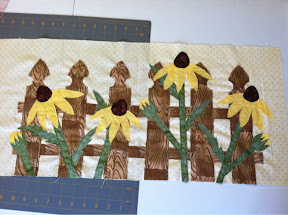 (I love the way that this picket fence turned out.)
I wanted to add sashing between all of the blocks and then bordered them with a green floral that I used on a previous quilt.
I finished using a meandering stipple pattern to quilt. J'adore.
My friendship group is so unbelievably talented. I am fortunate beyond measure to be amidst such fabulous women!
:)