I promise a quilt post in a few days. I wanted to take a moment to post about our family's quick little jaunt to Las Vegas! Now, Vegas happens to be a favorite getaway for Rene and me. However, we have never been with the family, for obvious reasons. :)
Well, my dad told me that they could get a pretty cheap fare to Vegas, if we wanted to meet them. He didn't have to twist my arm!
We rented a beautiful home that would hold us all and it had an outstanding backyard. *love* Take a peek....
The pool had four waterfalls, diving platforms, and a rock slide. What was not to love?
We took the kids over to the strip for some family-friendly, touristy sight-seeing. The big hits were the Bellagio and the Venetian.
Here are some shots from the Bellagio: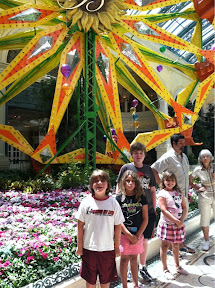 We stopped to watch the fountains at the Bellagio and had this great view of the Paris.
The kids LOVED the fountains.
Stunning!
Daniel (and Rene) were immediately distracted and sucked into the Ferrari Store.
The Gondolas were a hit.
While waiting by this Oxygen Bar, Jake asked why anyone would pay for oxygen. I tried to explain the concept and he scoffed and asked if there was also a place in the mall where they sold a penny for $50. My cynical, little son.
We did a little shopping. Rene kept tempting me with some Jimmy Choo shoes. He knows that I have a tremendous weakness for cute shoes. I was seriously proud of my will power.
The weather was perfect, but it was seriously hot! That's right 111 degrees and that was at 5:30pm.
So, we did an awful lot of this.
(Gaby-jumping, Daniel-sliding, Jake-cannonballing, and my dad-floating...He will kill me when he sees this shot.) Ha!
P.S. This was filmed with my iPhone using the new nifty underwater case that I bought. *awesome*
It was fabulous to see my parents and let them get some grandkid time. Of course, I always love a little Vegas time with my husband. *wink*