Bittersweet.
Sweet-I was so happy to make this baby quilt for Derek and Tina's baby boy (due in October.)
Bitter-the reminder that Derek and Tina will be leaving the first week in August for Beaufort, South Carolina...Derek's new duty-station.
Well, here we are. The end of July. Sigh. Derek and Tina will only be here about two more weeks. :( Jake is used to Derek being gone. He has been deployed to Iraq/Afghanistan five times since 2001. However, this is different. But, I digress.....
For Baby Cooper's quilt, I chose to use Hoffman's "It's a Jungle Out There" fabric line. They actually have three versions: one featuring primary colors, one using neutral tones, and the one I used. :)
Hoffman has a
free pattern on their website
that I tweaked slightly for this quilt. I will be honest. It turned out a little too busy for my tastes. If I were to do it again, I would probably use more solids within the quilt to add more definition. Maybe????
I decided to use this as the backing fabric because elephants (especially cartoon ones) make me ridiculously happy.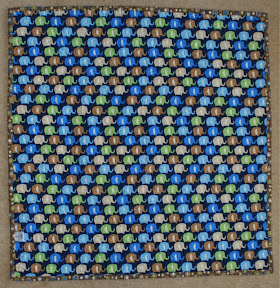 Well, I hope that Baby Cooper enjoys snuggling, drooling, and crawling all over this quilt. <3 <3 <3
- Posted using BlogPress from my iPad